Dr. Marvin Clothier, DDS
611 North Broadway Suite B
Pittsburg, KS 66762
(620)231-4140
My Blog
Posts for tag: dentures
By Smile Solutions
July 11, 2018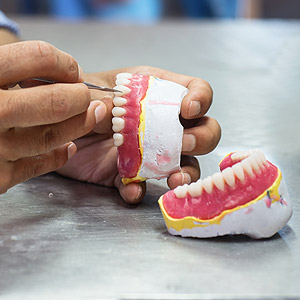 For centuries, people who've lost all their teeth have worn dentures. Although materials in today's dentures are more durable and attractive than those in past generations, the basic design remains the same — prosthetic (false) teeth set in a plastic or resin base made to resemble gum tissue.
If you're thinking of obtaining dentures, don't let their simplicity deceive you:Â a successful outcome depends on a high degree of planning and attention to detail customized to your mouth.
Our first step is to determine the best positioning for the prosthetic teeth. It's not an "eyeball" guess — we make a number of calculations based on the shape and size of your jaws and facial features to determine the best settings within the resin base. These calculations help us answer a few important questions for determining design: how large should the teeth be? How far forward or back from the lip? How much space between the upper and lower teeth when the jaws are at rest?
We also can't forget about the artificial gums created by the base. How much your gums show when you smile depends a lot on how much your upper lip rises. We must adjust the base size to accommodate your upper lip rise so that the most attractive amount of gum shows when you smile. We also want to match as close as possible the color and texture of your natural gum tissues.
There's one other important aspect to manage: how your upper and lower dentures function together when you eat or speak. This means we must also factor your bite into the overall denture design. This may even continue after your dentures arrive: we may still need to adjust them while in your mouth to improve function and comfort.
Ill-fitting, dysfunctional and unattractive dentures can be distressing and embarrassing. But with careful planning and customization, we can help ensure your new dentures are attractive and comfortable to wear now and for years to come.
If you would like more information on removable dentures for teeth replacement, please contact us or schedule an appointment for a consultation. You can also learn more about this topic by reading the Dear Doctor magazine article "Removable Full Dentures."
By Smile Solutions
October 23, 2016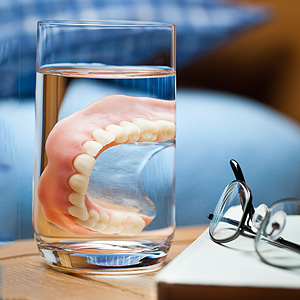 There's no doubt about it — dentures have changed your life. Now you can eat and speak normally, and smile again with confidence. But if you're going to continue to benefit from your dentures, you'll need to take care of them. One of the best things you can do is not sleep with them in.
There are a couple of important reasons why you should take your dentures out when you go to bed. First, dentures tend to compress the bony ridges of the gums that support them. This contributes to the loss of the underlying bone, an occurrence common with missing teeth. Wearing dentures around the clock can accelerate this bone loss, which eventually loosens your denture fit.
Constant denture wearing also contributes to mouth conditions conducive to dental disease. You're more likely to develop tongue and denture plaque (a thin film of bacteria and food particles) that can cause gum inflammation or yeast development. The presence of the latter could also trigger a chronic response from your immune system that might make you more susceptible to other diseases.
Good oral hygiene is just as important with dentures as with natural teeth. Besides removing them at night, you should also take them out and rinse them after eating and brush them at least once a day with a soft tooth brush. And be sure to use regular dish or hand soap (especially antibacterial) or denture cleanser — toothpaste is too abrasive for denture surfaces.
It's also a good habit to store your dentures in water or, better, an alkaline peroxide solution. This will help deter plaque and yeast development. And don't forget the rest of your mouth: brush your tongue and gums with a very soft toothbrush (different from your denture brush) or clean them off with a damp cloth.
Taking care of your dentures will ensure two things. You'll lower your risk for disease — and you'll also help extend your dentures' life and fit.
If you would like more information on caring for your dentures, please contact us or schedule an appointment for a consultation.
By Smile Solutions
May 15, 2013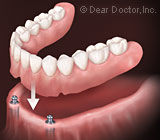 Think you already know all about dentures? Answer the following questions, and see whether your understanding of false teeth is more true than false.
True or False: About one-quarter of the U.S. population has none of their own teeth left by the age of 65.
Answer: True
The technical term for the complete loss of all permanent teeth is edentulism, and it's a big issue, affecting 26% of adults between 65 and 74 years of age. Without treatment, many individuals not only suffer a reduced quality of life, but also risk nutritional problems and systemic health disorders. Dentures are a reliable and affordable way to replace their missing teeth.
True or False: Tooth loss has nothing to do with bone loss.
Answer: False
Far from being a fixed, rigid substance, bone is actually growing and changing constantly. In order for it to stay healthy, bone needs constant stimulus. For the alveolar bones of the jaw, this stimulus comes from the teeth; when they are gone, the stimulus goes too, and the bone resorbs or melts away. The missing bone mass can cause changes in facial features, difficulties with eating, speech problems and other undesirable effects.
True or False: Once the teeth are gone, there is little that can be done to mitigate bone loss.
Answer: False
While a certain amount of bone loss is unavoidable, it can be minimized. The techniques of bone grafting may be used to create a "scaffold" on which the body can restore its own bone tissue. Bone loss can also be limited by retaining the roots of teeth that had previous root canal treatment, even when the crowns must be removed. Perhaps the best way to limit long-term bone loss is the use of dental implants, which restores function and prevents excessive resorption from tooth loss. When tooth loss is inevitable, a pre-planned transition to dentures offers the opportunity to retain as much bone as possible, and avoid future problems.
True or False: There are many options available to make wearing dentures a fully functional and comfortable experience.
Answer: True
Fabricating prosthetic teeth is a blend of science and art. Not only must the appearance of the teeth and gums be made to look natural, but the fit has to be exact and the bite must be balanced. After a little practice, most people subconsciously adapt to the slightly different muscular movements required when wearing dentures. For those few who have difficulty, hybrid forms of implant-supported dentures may offer an alternative. In all cases, developing a partnership of trust between a skilled clinician and an informed patient is the best way to ensure that the experience will be a success.
If you would like more information about dentures, please contact us or schedule an appointment for a consultation. You can also learn more about this topic by reading the Dear Doctor magazine article "Removable Full Dentures."