Dr. Marvin Clothier, DDS
611 North Broadway Suite B
Pittsburg, KS 66762
(620)231-4140
My Blog
Posts for: May, 2015
By Smile Solutions
May 30, 2015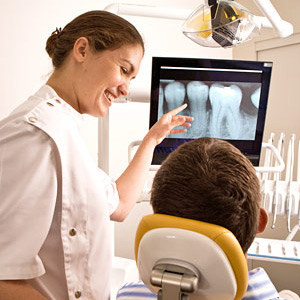 X-rays are an important diagnostic tool in dentistry because of their ability to penetrate and pass through body tissues. Because they penetrate at different speeds depending on tissue density (shorter and thus darker on exposed film for soft tissues, longer and lighter for hard tissues like bone or teeth), we're able to detect decay which appear as dark areas on x-ray film.
Without x-rays, the early detection and diagnosis of dental problems would be quite difficult. But despite its obvious benefits, it's still a form of released energy that exposes patients to a certain amount of radiation. Since the potential health risk from radiation depends on the amount released (the dosage) and for how long and often a person is exposed, we must determine if the dosage and frequency from dental x-rays is a cause for concern.
It's a common misconception to view any radiation exposure as dangerous. The truth is, however, we're all exposed daily to radiation from the natural environment — about 2 to 4.5 millisieverts (the dosage measurement for radiation exposure) a year, or about 10 microsieverts (one-thousandth of a millisievert) every day.
In comparison, radiation exposure from routine dental x-rays is a fraction of this if measured over time. A set of four bitewing images of the back teeth produces 4 microsieverts of radiation, less than half the average daily exposure. One of the most comprehensive x-ray sets, a full mouth series of 18-20 images using "D" speed film, results in an exposure of 85 microsieverts, equaling about a week of normal radiation exposure.
These thoroughly researched rates help demonstrate that regular dental x-rays are relatively safe. What's more, x-ray technology has continued to advance since first used in the mid-20th Century. With innovations in film and digital processing, today's equipment produces only 80% of the radiation exposure of earlier machines. In effect, we've increased our capabilities to more accurately detect and diagnose issues through x-rays, while lowering the amount of radiation exposure.
Of course, a person's annual exposure rate may differ from others. If you have concerns for yourself or your family about x-ray radiation exposure, please feel free to discuss this with us. Our primary goal is to improve your oral health without undue risk to your health in general.
If you would like more information on x-ray diagnostics and safety, please contact us or schedule an appointment for a consultation. You can also learn more about this topic by reading the Dear Doctor magazine article "X-Ray Frequency and Safety."
By Smile Solutions
May 15, 2015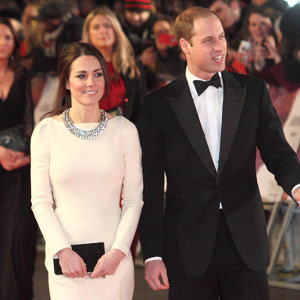 So you're tearing up the dance floor at a friend's wedding, when all of a sudden one of your pals lands an accidental blow to your face — chipping out part of your front tooth, which lands right on the floorboards! Meanwhile, your wife (who is nine months pregnant) is expecting you home in one piece, and you may have to pose for a picture with the baby at any moment. What will you do now?
Take a tip from Prince William of England. According to the British tabloid The Daily Mail, the future king found himself in just this situation in 2013. His solution: Pay a late-night visit to a discreet dentist and get it fixed up — then stay calm and carry on!
Actually, dental emergencies of this type are fairly common. While nobody at the palace is saying exactly what was done for the damaged tooth, there are several ways to remedy this dental dilemma.
If the broken part is relatively small, chances are the tooth can be repaired by bonding with composite resin. In this process, tooth-colored material is used to replace the damaged, chipped or discolored region. Composite resin is a super-strong mixture of plastic and glass components that not only looks quite natural, but bonds tightly to the natural tooth structure. Best of all, the bonding procedure can usually be accomplished in just one visit to the dental office — there's no lab work involved. And while it won't last forever, a bonded tooth should hold up well for at least several years with only routine dental care.
If a larger piece of the tooth is broken off and recovered, it is sometimes possible to reattach it via bonding. However, for more serious damage — like a severely fractured or broken tooth — a crown (cap) may be required. In this restoration process, the entire visible portion of the tooth may be capped with a sturdy covering made of porcelain, gold, or porcelain fused to a gold metal alloy.
A crown restoration is more involved than bonding. It begins with making a 3-D model of the damaged tooth and its neighbors. From this model, a tooth replica will be fabricated by a skilled technician; it will match the existing teeth closely and fit into the bite perfectly. Next, the damaged tooth will be prepared, and the crown will be securely attached to it. Crown restorations are strong, lifelike and permanent.
Was the future king "crowned" — or was his tooth bonded? We may never know for sure. But it's good to know that even if we'll never be royals, we still have several options for fixing a damaged tooth. If you would like more information, please contact us or schedule an appointment for a consultation. You can learn more by reading the Dear Doctor magazine articles "Repairing Chipped Teeth" and "Crowns and Bridgework."